Home

/

WINDSOR BRASS 1184 DOUBLE TURN LOCK KIT
WINDSOR BRASS 1184 DOUBLE TURN LOCK KIT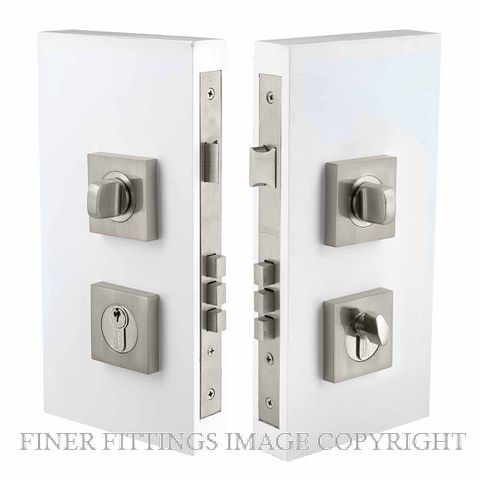 | | |
| --- | --- |
| | Supplied With Timber Fixings |
WINDSOR 1184 DOUBLE TURN LOCK KIT (SQUARE ESCUTCHEONS)
PRODUCT DESCRIPTION
The Windor 1184 lock kit includes a 60mm backset lock with a pair of sqare turns & cylinder escutcheons and a 1148 key & turn cylinder.
This Euro lock kit is ideal for to the main entrance of your house allowing the door to be held closed by the latch which can be opened by a turn from both sides then can be locked or unlocked by a turn knob from the inside or key from the outside when required.
Available in Standard Finishes
Brushed Nickel - Graphite Nickel - Matt Black - Satin Chrome
Available in Special Finish 14 days lead time
Powder Coat
Door Thickness - 32mm-50mm
Backset - 60mm
If you require assistance with your selection please contact us either by email or phone.
FOR RELATED PRODUCTS REFER BELOW
Downloads
Code
Supplier Part Number
Image
Product Name
Unit
Finish
Backset
Door Thickness
Price
Quantity
WI1184 PC
1184-PC
WINDSOR BRASS 1184 DOUBLE TURN LOCK SQUARE 60MM POWDER COAT

Unit:

Kitset

Finish:

Powder Coat

Backset:

60mm

Door Thickness:

32mm-50mm

Kitset
Powder Coat
60mm
32mm-50mm

Retail: $398.26 (inc GST)

Special: $338.53 (inc GST)

WI1184 BN
1184-BN
WINDSOR BRASS 1184 DOUBLE TURN LOCK SQUARE 60MM BRUSHED NICKEL

Unit:

Kitset

Finish:

Brushed Nickel

Backset:

60mm

Door Thickness:

32mm-50mm

Kitset
Brushed Nickel
60mm
32mm-50mm

Retail: $296.09 (inc GST)

Special: $251.68 (inc GST)

WI1184 BLK
1184-BLK
WINDSOR BRASS 1184 DOUBLE TURN LOCK SQUARE 60MM MATT BLACK

Unit:

Kitset

Finish:

Matt Black

Backset:

60mm

Door Thickness:

32mm-50mm

Kitset
Matt Black
60mm
32mm-50mm

Retail: $313.47 (inc GST)

Special: $266.44 (inc GST)

WI1184 GN
1184-GN
WINDSOR BRASS 1184 DOUBLE TURN LOCK SQUARE 60MM GRAPHITE NICKEL

Unit:

Kitset

Finish:

Graphite Nickel

Backset:

60mm

Door Thickness:

32mm-50mm

Kitset
Graphite Nickel
60mm
32mm-50mm

Retail: $313.47 (inc GST)

Special: $266.44 (inc GST)

WI1184 SC
1184-SC
WINDSOR BRASS 1184 DOUBLE TURN LOCK SQUARE 60MM SATIN CHROME

Unit:

Kitset

Finish:

Satin Chrome

Backset:

60mm

Door Thickness:

32mm-50mm

Kitset
Satin Chrome
60mm
32mm-50mm

Retail: $296.09 (inc GST)

Special: $251.68 (inc GST)